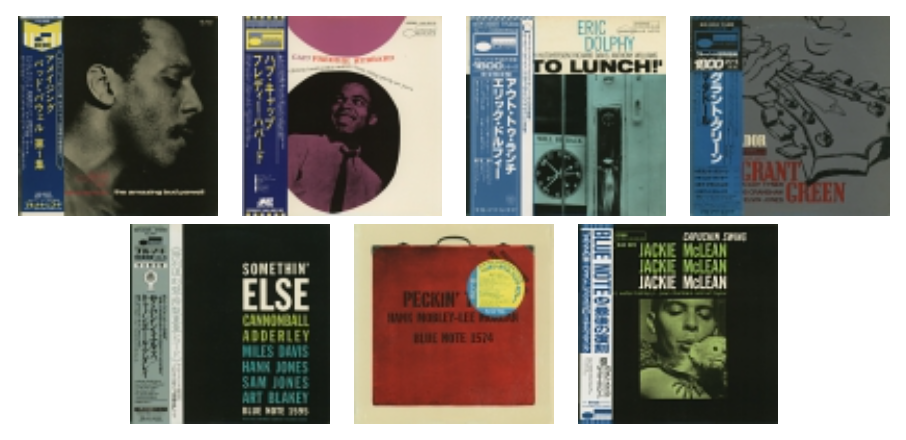 Since 1968, so many Japanese pressings of Blue Note titles had been released in Japan by Toshiba Musical Industries, King Records and Toshiba EMI. Aside from the U.S., Japan may have been the luckiest country in the world, for we Japanese could enjoy so many Blue Note albums in Japan's own pressings. In general, Japanese pressings are sought after for high fidelity pressings – imagine the second-best sound quality (next to U.S. original pressings) meet super-clean quiet vinyl pressing technology. Furthermore, we even could enjoy unreleased materials covered with nice jacket artworks – luckily we Japanese could enjoy and listen to them first among the world in the 1970s and 1980s!
Since there are a huge number of collectors / jazz fans worldwide who have special attention to Blue Note albums, Japan pressings have been gradually popular nowadays. However, there have been too many variations ever released that may confuse us. That's why I started this page, in order to clarify which album was ever issued in Japan and when, which album is said to be really collectable, etc. And of course this page is intended to share such information among all over the world – yes the World Wide Web works as it should be 🙂
This page is still under construction: If you have any other information which is currently missing here, or if you find any mistakes, please let me know. I will add/fix them. I appreciate any of your help!
Table of Contents
1966-1968: Toshiba Musical Industries era (1):

Toshiba started to release Blue Note LPs in 1966. However, they were not Japan pressings; U.S. pressings were imported and sold with OBIs (or stickers) along with inserts written in Japanese.
It was in 1968 when Toshiba finally started to release own Japan pressings.
In 1977 distribution rights moved from Toshiba to King. King Records released a number of great pressings.
Toshiba regained the distrubution rights in 1983, and started releasing comprehensive numbers of Blue Note LPs.
We must thank to Toshiba – they continued to release Japanese LP pressings again and again, even CDs eliminated lovable LPs.
Links
Many Thanks To:
Larry Cohn-san, a hardcore Blue Note collector 🙂
Colston "Rife" Thompson-san, who provided me many information such as letting me know the existence of LNJ-80157.
Alex Skorobogatov-san, who let me know the existence of LNJ-80156.
Kazuyuki Yoshihara-san, who kindly sent me facsimile of liner-notes and more, of imformative data.
noppo-san, who kindly let me know the exact release dates of BLP 1500 series by Toshiba EMI in 1994.
ChangeLog
May 1, 2023
these pages are under my blog, and now fully "responsible"
Added 2011-2013 "From The Original Master Tapes: Blue Note Premium Reissue" Series (EMI Music Japan & Disk Union)
Added 2014 "100% Pure Vinyl" Series (Universal Music Japan)
April 13, 2008
identified catalogue numbers of two bonus albums (BLC-1008 and BLC-1009) for the 1999 Toshiba 10-inch reissue series. Thanks Larry Cohn-san!
October 17, 2006
August 28, 2004
added DOR-0129, an unusual "NOT FOR SALE" 45rpm audiophile LP releaesd by Daiichi Katei Denki.
August 21, 2004
August 15, 2004
confirmed that the newest Toshiba series were pressed with dititally-remastered tapes by RVG himself.
July 22, 2004
added Blue Note Special series (King's chronological compilation LPs) from K18P-9124 thru K18P-9128.
June 03, 2004
May 27, 2004
April 5, 2004
March 27, 2004
identified GXF-3179 (Joe Pass) and GXF-3180 (Al Viola) of King's 1979 Jazz Guitar Series
following titles also identified: GXF-3141, 3142, 3144, 3146, 3147, 3150
Thank you so much Hiroshi Tanno-san of Early Records for letting me know!
March 24, 2004
January 27, 2004
split 1980-1981 "Unissued Masters Series" (GXK-8151 thru GXK-8190) into two parts.
identified GXF-3177 (Kenny Burrell's "Blue Lights, Vol.2")
Thanks Nobuaki Togashi-san for pointing these out!
December 13, 2003
added 1976 Toshiba EMI LNJ-60006 (Japan 1st reissue of BST-89002 "Portrait of Sheila") to the 1968-1977 listing.
November 6, 2003
I have obtained a copy of Toshiba EMI/DAM DOR-0129 (maybe released in 1984), 45rpm 12-inch LP called "super analogue disc 45", not for sale and limited edition.
I will add the information and scanned images in the near future.
identified exact release date of BNJ-27002 (12-inch 45rpm single of Bud Powell's "Blue Pearl (at)" c/w "Cleopatra's Dream"),
from ads on the Japanese "Record Collectors" magazine (March 1984 issue).
identified exact release date, titles and numbers of Toshiba EMI's "Blue Note 4000 Series Original Collection 100" Part 3 (Aug. 22 1985),
from ads on the Japanese "Record Collectors" magazine (September 1985 issue).
identified titles and numbers of Toshiba EMI's "Blue Note LP Original 5000 Series Collection Again!",
released in November 1995 (exact release date hasn't been identified yet)
July 11, 2003
yet another fruitful contributions by Larry Cohn-san – I'll add/fix them little by little, so please be patient 🙂
July 10, 2003
fixed another typo – thanks again Larry Cohn-san for letting me know.
June 27, 2003
I noticed that the very first titles of the King's "Masterpiece Selection 150" series (GXK-8001 thru GXK-8150) were released in 1977 – fixed.
(I have confirmed this fact with a copy of GXK-8007 "Spring")
June 21, 2003
added 1983 "Pacific – UA Masterpice Vol.2" on 1977-1983 King era.
June 20, 2003
added mention about "extra yellow OBI" found on later issues of 1978-1979 "Blue Note Masterpiece Selection 150" Series on 1977-1983 King era.
June 11, 2003
added "Blue Note Original 5000 Series" section on 1989- Toshiba era.
June 6, 2003
identified the series name of 1981 King issue (as "Collectors' Item" series)
added scanned images of GXK-8214 (thanks Colston "Rife" Thompson-san)
added scanned images of GXK-8190
June 5, 2003
identified exact release date of 1983 "Modern Piano Collection" series; re-sorted entries of 1983-1988 Toshiba issues.
June 4, 2003
added "Blue Note Jazz Classics Masterpiece" section on 1977-1983: King era.
added missing titles of 1981 series (thanks Larry Cohn-san)
deleted most of the description regarding "awesome sounds", "sounds better" or something like that, in order to minimize confusion by the readers.
This change was done with the suggestion by Larry Cohn-san (thank you so much for pointing this out).