( . . . きちんと音楽を聴ける時間がやっととれた . . . )
This afternoon mother-in-law went long way back to Kobe. She stayed with us for about a month to help us with the baby. Thank you so much anyway.
The only regret with her was, for me, that she didn't like listening to music much, and that she didn't understand how much (and how often) I love listening to music as a daily basis. So while she was staying with us at home, the loud speaker on the right side had to stay away from the speaker-stand, because the speaker is always located in front of the window to the veranda, and she always complained that the speaker stood in her way out to the veranda with laundry . . . yes she's right.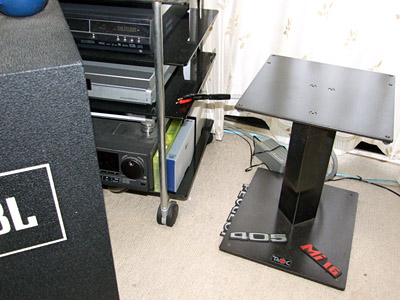 So, for most of the time in the past three weeks, I had to listen to the music through poor small speakers while working in front of computers. This 10CD "Wallet Box" (known for budget price) by Charlie Parker was one of such albums I had to enjoy with poor small PC speakers.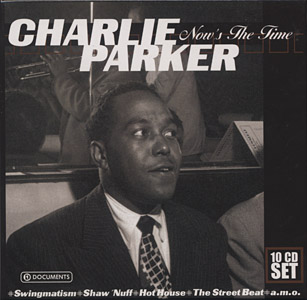 Now's The Time (10CD Wallet Box) / Charlie Parker
(Documents [G] 222921)
One day I was listening only to Disc 1 of the 10CD box so many times, and I noticed I love the disc the most compared with other nine.
Disc 1 of the box features Charlie Parker's very early era, including Jay McShann's "Swingmatism" (April 30, 1941) and "The Jumpin' Blues" (July 2, 1942); Tiny Grimes' "Tiny's Tempo", "I'll Always Love You", "Romance Without Finance" and "Red Cross" (September 15, 1944); Cryde Hart's "Dream Of You" (January 4, 1945); the legendary Gillespie=Parker recordings on Guild / Musicraft labels (February 28 and May 11, 1945); superb septet recordings by Red Norvo featuring Gillespie, Parker, Flip Phillips and even Teddy Wilson (June 6, 1945); and Sir Charles Thompson setpet's interesting session with Buck Clayton, Dexter Gordon and J.C. Heard (September 4, 1945).
Every Jazz fan should agree that one of his best sessions is a series of Dial / Savoy recordings. I agree. On the other hand, such early recordings as we can hear on this Disc 1 are another interesting showcase of the "transition period" from Hot Swing to Be-Bop. We can clearly find Bird's alto sounds so unique among hot and swingy Jay McShann's orchestra, and at the same time we may be surprised that his revolutionary alto sound blends so well with such swingy rhythm.
Other noticeable track I found great was "Hallelujah" by Red Norvo and His Selected Sextet (June 6, 1945) – what a beautiful contrasts among Flip Phillips' fine-and-mellow improvisations (on 4th chorus – it's one of my best favourite solo by "Flip" Phillips!), Teddy Wilson's swingy piano interpretations (on 5th chorus) and Bird's superb boppish phrases after Slam Stewart's solo. What a great performance!
---
And now I can move the speaker back on the stand, I can turn on my tube amplifier, and I can enjoy listening to CDs, vinyls and 78rpms, as long as the music is not too loud to make the baby cry. Anyway now the time has come to me!
These are all "classic of classics" – the earliest and the finest example of Be-Bop by Dizzy Gillespie and Charlie Parker. These three 78rpms (all from Guild label) sounds far better than the above 10CD box, of course, and I really enjoyed the 78rpms all the way this afternoon.

Dizzy Gillespie Sextet:
Dizzy Gillespie (tp), Dexter Gordon (ts),
Frank Paparelli (p), Chuck Wayne (g), Murray Shipinski (b), Irv Kluger (ds).
Recorded in New York City on February 9, 1945.
G555     Blue 'N Boogie          Guild 1001; Musicraft 485; Savoy MG 12020

Dizzy Gillespie Sextet:
Dizzy Gillespie (tp), Charlie Parker (as),
Clyde Hart (p), Remo Palmieri (g), Slam Stewart (b), Cozy Cole (ds).
Recorded in New York City on February 28, 1945.
G554A-1  Groovin' High           Guild 1001; Musicraft 486; Savoy MG 12020
G556     All The Things You Are  Musicraft 488; Savoy MG 12020
G557     Dizzy Atmosphere        Musicraft 488; Savoy MG 12020

Dizzy Gillespie And His All Stars:
Dizzy Gillespie (tp, vo on G565), Charlie Parker (as),
Al Haig (p), Curly Russel (b), Sidney Catlett (ds),
Sarah Vaughan (vo on G567).
Recorded in New York City on May 11, 1945.
G565A-1  Salt Peanuts            Guild 1003; Musicraft 518; Savoy MG 12020
G566A-1  Shaw 'Nuff              Guild 1002; Musicraft 354
G567A-1  Lover Man               Guild 1002; Musicraft 354; Musicraft 499
G568A-1  Hot House               Guild 1003; Musicraft 486; Savoy MG 12020

---
My little baby start crying every three hours asking for breast milk. This afternoon, when I was listening to the above 78rpms in the living room, she started crying again in the bed, even though she already had breast milk only an hour ago. So until my wife was ready for breastfeeding, I held my baby in my arm and took her to the living room filled with the classic Be-Bop sound comin' from the 78rpms. Soon after that, she stopped crying and it amazed me! She even looked very curious and interested in what she was hearing. I hope she will like that Jazz of 62 years ago . . .
---
Similar Posts / 関連記事:
Some similar posts can be found on this website (automatically generated).