アンプの修理が終わったとメールで連絡がありました。金曜日に取りに行く予定です。あぁ長かった。
さて 前回 載せた 6枚の中に チャールズ・ミンガス (Charles Mingus) の「ティファナ・ムーズ」("Tijuana Moods") も入っていました。ベーシストとして、作曲家として、アレンジャーとして、つまり Mingus の多岐に渡る要素がバランス良くフィーチャーされた、初期の名作といえます。
On my previous post, there are six labels (78rpms, 45rpms and LPs) being featured. They include the LP "Tijuana Moods" by Charles Mingus, one of his masterpiece albums in his early period, featuring his every versatile artistry such as a great bass player, a talented composer, and a superb arranger.
アンプが返ってくるまでは、2001年に BMG からリリースされた 2枚組 CD を聴いています。この CD は未発表のフラグメントもテンコ盛りで、文字通り本アルバムの決定版となっています。しかし、この CD を隅々まで聴けば聴く程、"Tijuana Moods" というアルバムに対するいくつかの謎が解明されると同時に、更なる謎は深まるばかり。
Since my tube amplifier is in trouble and is under repair, the only equipment for me at the moment is a PC speaker, and I enjoy listening (although the sound quality is way poor) to the 2CD edition of "Tijuana Moods", which was released in 2001 by BMG. This definitive 2CD version contains many bonus tracks, most of which are previously-unreleased fragments of the recording. And more devotedly I listen to the CD, the more questions arise in my head, while on the other hand this CD edition also reveals the answers to the mysteries of the album.
(. . . the rest of the English edition of this article will hopefully be available in the near future . . .)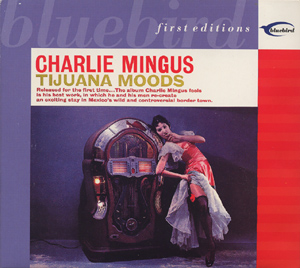 First Editions: Tijuana Moods / Charlie (Charles) Mingus
(BMG/Bluebird [US] 09026-63840-2)
Amazon.co.jp で買う
|
Buy this CD at Amazon.com
Read More / 続きを読む