Abstract: On November 23th, I went to the Tsukuba city to take part in Jazz 78rpm Concert which was directed by Seya-san (a very famous 78rpm collector in Japan). I really enjoyed the performances of what the Jazz was like in the pre-War period, as well as rich and warm sounds of 78rpms in the era.
11月23日、外環道〜常磐道と飛ばしてつくば市へ向かい、 瀬谷さん が久々に開催された ジャズSPレコードを聴く会 に参加してきました。参加者は東京組8名とつくば組8名。岡村さんや柳沢さんといったおなじみの面々もいらしてました。
田舎のお蕎麦屋さんの店内に、瀬谷さんが出張演奏会の時に使われるジェンセンのフルレンジスピーカー、フィッシャーの真空管プリメインアンプがセットされ、食事を楽しみながら、大音量で 1920年代〜1940年代の Jazz を 18曲堪能しました。そら当然、うちで聴くよりもっと素晴らしいレコード演奏でした。本当に SP っていい音しますなぁ。個人的に興味を持った演奏もあったので、なんとかしてその SP を探し出してみたいものです。しかし 1936年録音の Bluebird レーベルだと。そんなもん簡単には手に入らないんやろうなぁ。
本来の目的は、ユニバーサルミュージックに貸し出していた LP などを返してもらう というもので、担当者 F さんからそれらのブツを預かった岡村さんが、「今度の瀬谷さんの SP コンサート行くけど、松林くんも来ない? その時にお返しするから」と言われたのが、今回つくばに初参加したきっかけでした。いや、しかし、実に楽しめました。
瀬谷さんが SP 蒐集を始められたのが、ちょうど私の今とほぼ同じ年齢だったとのこと。瀬谷さんの様な世界に冠たるコレクターにはなりたくてもなれませんが、まぁ今後もこつこつと音楽やレコードメディアとは付き合っていこうと思います。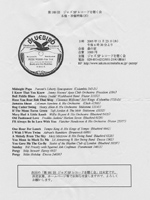 当日のパンフレット (クリックで拡大)
Program Pamphlet for the 78rpm concert (click to enlarge)
---
Similar Posts / 関連記事:
Some similar posts can be found on this website (automatically generated).