(本エントリは、私が別の web に 2003年 6月26日付で掲載していたものを転載後加筆訂正したものです)
(this article was originally made public at my another web site on June 26, 2003)
Vinyl addicts/collectors/junkies/whatever sometimes encounter very old vinyl records coming with such album covers like this:
昔のレコードを買うと、たまにこういうジャケットにあたることがあります。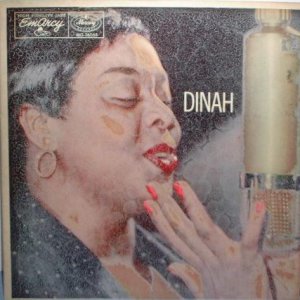 This is one of the typical kinds of wear often found on many Mercury and EmArcy albums from a typical period (most probably manufactured in 1956 and 1957). You see the front cover (more precisely, the cover under the lamination on the front cover) looking very cloudy and foggy like crystalline sediments and spots. This would be because of poor-quality paste to affix lamination onto the front cover, used during the specific period at the specific factory. Some early pressings of Impulse! label also suffers from the similar issue.
ジャケット表の印刷面の上に、ラミネートコーティングが施されているのですが、そのラミネートをカバーに貼り付ける際の接着剤の品質がよろしくないらしく、斑模様が出来てしまっています。ある特定の時期 (1956年〜1957年頃と考えられます) に生産された 私のメインターゲット の他、Impulse の初版にもたまにみられるそうです。
And after many trials and errors, I finally found the way to fix this.
で、試行錯誤の末これを直す方法を編みだしました。
The below one is the result of my self-developed treatment onto the above one – ain't that look much better than it was? Please note that the above photo is taken by my digital camera, the below one by a flatbed scanner.
以下の写真がある処置を施した結果です。 上はデジカメ、下はスキャナなので色合いは異なりますが、 斑が殆どとれているのが分かるかと思います。
How did I do this? … it's "TOP SECRET!" … haha, just kidding. You can do this just by using a certain electric commodity found at everyone's house. Oh, what a jazzy life we have…
やり方はヒミツ、なんてね(笑)。どなたの家にでもある、某日用電化製品を使いました。嗚呼なんともジャジーな人生ではありますまいか。
---
Similar Posts / 関連記事:
Some similar posts can be found on this website (automatically generated).