またか、と思ってしまいますが、今回は間違いなく決定版です。HDtracks にて ステレオ (24/192, 24/96)、モノ (24/192, 24/96) がリリースされています。圧倒的なリマスター。
Yet another remaster? But this time, 2013 version is surely the definitive edition. HDtracks just released the digital downloads on the website, both in stereo (24/192, 24/96) and mono (24/192, 24/96). The Definitive Remaster, period.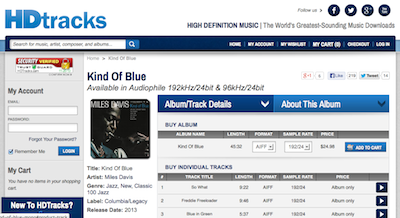 カッティング用マスターは劣化しているため、3トラックのセッションマスターにまでさかのぼったものの、テープの磁性体がはがれやすい状態だったとのことで、直接ミキシングするのは諦め、3トラックをストレートにハイレゾで保存、そこからオリジナル盤を何度も聴き込んでフェーダー操作を調査、ステレオとモノーラル用にミックスダウンしたものだそうです。
(quoted from the HDtracks website) "Since the Kind of Blue mixed masters are multiple generations from the original (due to excessive play/wear), we decided to go directly to the original session reels. Not only does this put us at the original session as a starting point, but it also allows us to deal with the pitch issue as well. The three, 3-track half-inch tapes are in good condition, but age has force them to "scallop" a little, meaning that the edges curl away from the tape head. This changed the initial focus from mixing from the originals to archiving them before mixing and working from the archive files. This allowed us to gently guide the tape against the playback head to get optimal contact and fidelity. The archiving was done at 192kHz/24 bits, played from a modified Ampex ATR 104, and hard-wired to HDCD Model 2's directly patched to a Lynx 2 sound card. An upside to working from the archive files was the ability to chase the original fader moves done during the mix in 1959. We constantly compared to an early pressing – mono and stereo – and worked bar by bar to duplicate the level moves on the three tracks to match as well as possible. Each channel was converted to analog and passed through a GML mixer, bussed to stereo or mono – depending on the release format – and converted once again to 192Kc/24 bits. At the GML, we inserted processing where needed." – Mark Wilder, Battery Studios
結果は誰の耳にも圧倒的といえます。ハイレゾであるか否かを超えて、全く別次元の鳥肌ものの Kind of Blue がここにあります。
The result is obviously stunning. Kind Of Blue, now into the next level – it's not just the hi-reso music but the new transfer from the original session reels. Simply spine-chilling.
今回のリイシューに携わったエンジニア、マーク・ワイルダー(Mark Wilder)氏の解説は以下の YouTube 動画で見ることができます。マークさんは以前、廃棄直前のエマーシーレーベルのテストプレスを救ってくれた こともありました。
You may also watch the very interesting YouTube video explained by the superb engineer Mark Wilder, who previously appeared on my weblog, entitled "The Guy Who Saved Invaluable EmArcy Test Pressings".
See Also: