「Songs For Young Lovers / Frank Sinatra」より:
. . . あぁ、両面 D1 か D2 の西海岸プレスはどこかに落ちてないものでしょうか。
というわけで先週届きました (笑) A面が D1 で B面が D2 のプロモ盤 (東海岸プレス)。
quoted from "Songs For Young Lovers / Frank Sinatra" :
. . . if only I could find the West-Coast pressing copy with D1 or D2 on both sides!
And here it is 🙂 This promo copy (East-Coast pressing) with yellow label and D1/D2 matrix came to me last week.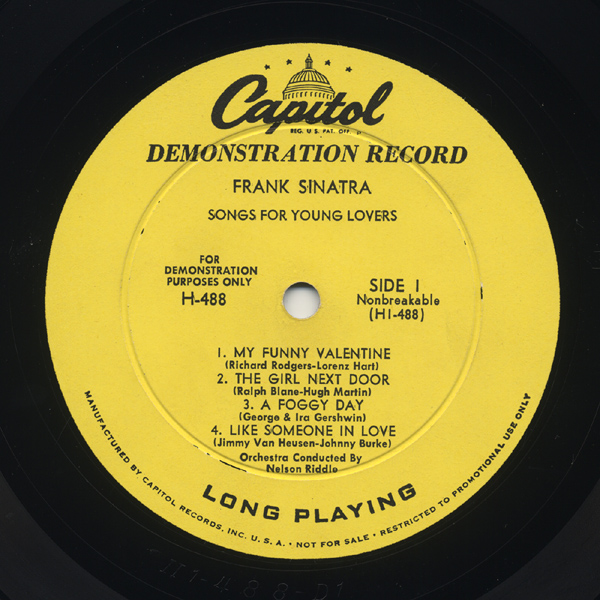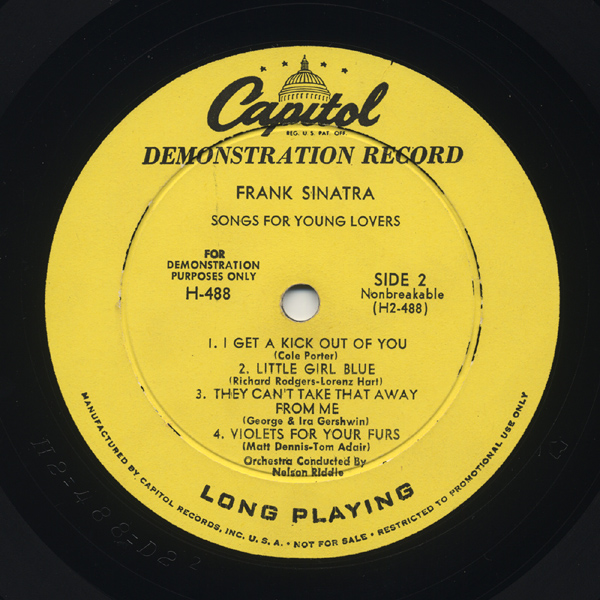 Songs For Young Lovers / Frank Sinatra
(Capitol [US] H-488)
1st variation, w/ deep groove on label, D1/D2 matrix, AES cutting, yellow label promo
前回紹介した D4/D4 マトリクスの AES カッティング (溝あり) と比べると、その再生音には大きな違いがありました。まず盤質が良好であること。表面に軽いカスり傷があるなど、両方の盤ともに見た目は同じ程度なのですが、実際に再生してみると、1950年代の Capitol 盤でよくあるスクラッチノイズや音割れの程度がまるで異なります。今回のプロモ盤は手元にある全ての H-488 / L-488 の中で、ノイズが一番少なかったのでした。
On my previous article, I mentioned about a H-488 copy with D4/D4 matrix (with deep groove on label, AES curve), but this promotional copy surpassed the D4/D4 copy in every way. The first thing is better condition – by looking at both discs, there is no specific difference (both has light surface scuffs), but the sound quality is quite different. The D4/D4 copy has scratch noise as well as distorted sounds here and there (which is common in 1950s Capitol pressings), but this promo copy is free from such noise and distortion – wow!
そして最大の違いは、音の鮮度です。あいかわらず周波数帯域的には (後年の日本盤 LP や Mobile Fidelity ボックスの LP と比べると) やや物足りなさを感じなくもないですが、音の力強さ、過渡特性の良さは、他の H-488 / L-488 / W-587 ですら聴かれないもので、最初に聴いた時にはカッティングレベルが違うのではないか、と思ってしまった程です。これは素晴らしい。
And the most significant difference is the freshness of the sound itself – frequency range is still limited (if compared with later Japanese LPs or Mo-Fi LP box), but this promo disc really has lovable power and transiency, which even other H-488 / L-488 / W-587 copies don't have. When I firstly listened to the strong sound, I just thought that this copy's cutting level was higher than any other copies (actually the level is the same) – too good to be true!
以前書いた記事 も併せてご覧下さい。
Also take a look at my previous article.
---
Similar Posts / 関連記事:
Some similar posts can be found on this website (automatically generated).