It's been already one month since we lost one of the greatest Jazz guitar legends. The sad admosphere of feeling lost is still covered with me.
ジャズ界が偉大なギタリストを失って、もう1ヶ月が過ぎました。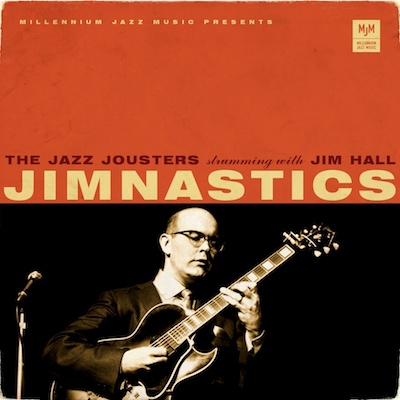 I'm now writing some dedicated article on the late great Jim Hall, and the other day something reminded me of an interesting issue back in June 2013.
遅まきながら、ジム・ホール氏への追悼を込めた記事を書き始めていますが、つい先日、そういえば去年こんなリリースがあった、というのを思い出したので、先に書いておきます。
It's an interesting Hip-Hop Remix compilation by The Jazz Jousters, the name of collective compilations which have been released so many as digital albums on BandCamp. In June 8 2013, Jazz Jousters released "Jim'nastics", featuring many samplings of Jim Hall's guitar.
それは、The Jazz Jousters というヒップホップ系のVAもの、コンピレーションのシリーズ名で、過去にも数多くのディジタルアルバムが BandCamp からリリースされています。昨年6月8日に、Jazz Jousters がリリースしたのが「Jim'nastics」というアルバムで、各楽曲にはジム・ホール翁の往年の名演奏・名フレーズのサンプリングがちりばめられています。
Not sure how many Jim Hall fans will accept this challenge, but worth giving it a try – at least you can enjoy the guessing game, to work out which track (on the album) features which samples (of Jim Hall's performance) from which album (by Jim Hall).
ジム・ホールファンのうち、どれだけの方がこういう類いの音源に興味を持たれるかは微妙ではありますが、一聴の価値はあると思います。少なくとも、どの曲で、ジム・ホール翁のいつのなんという演奏からサンプリングされたものが使われているか、当てっこゲームはできますからね(笑)