「ディスコグラフィーを鵜呑みにするな」という名言があります。
There is an reasonable saying "Do not blindly swallow any info on the discography books".
調査開始の礎として非常に有用ですが、最終的には真偽を自分の耳で確かめ、現物を探して確認するのが王道だということでしょう。
Discographies are very useful and valuable when using as a starting point of a specific research, but after all we have to find actual vinyls and give it a real listening.
著名なディスコグラファー Michel Ruppli さんの手による5巻組 The Mercury Labels – A Discography の第5巻のシングルリリース一覧には、どの盤が SP で出たのかマークがついているのですが、これが全くアテになりません。事実、以下に紹介するこの盤も、SP で出たというマークは記されていませんでした。
For example, Volume 5 of The Mercury Labels – A Discography (by a famous discographer Michel Ruppli) has numerical listings of entire 78rpm/45rpm releases, with marked abbreviations which indicates "issued on 78rpm and on 45rpm", "issued on 45rpm only" etc. However, these marks doesn't seem to be trustworthy: actually, this 78rpm (introduced here below) is NOT marked as "issued also on 78rpm".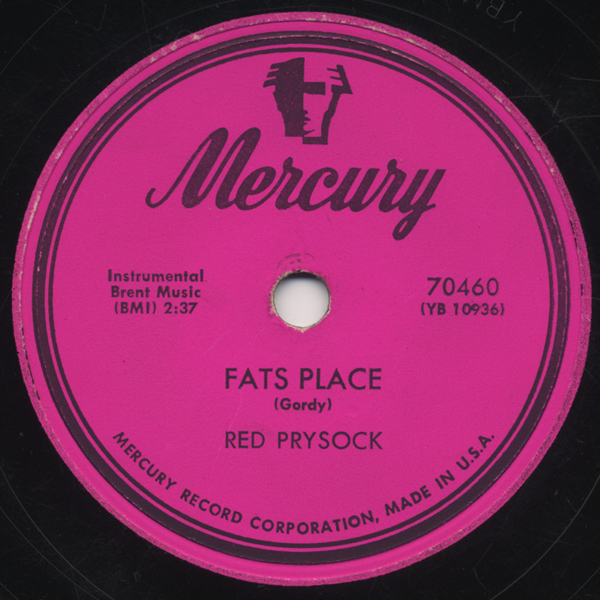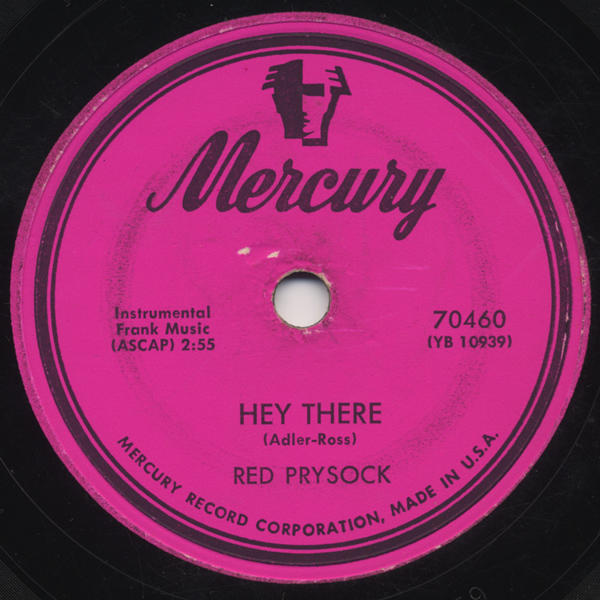 Fats Place c/w Hey There / Red Prysock
(Mercury
70460
)
ぶりぶりホンカーが好きな人にとってはお馴染み、 Red Prysock の 1枚です。
Everybody who likes the groovy honking sounds should know the name of Red Prysock.
1954年録音ですから、かろうじて SP が出ていてもおかしくありませんね。特にこういうジャンルですからなおさら。 内容はといえば、あのテのお下品ブリブリテナーが好きな人にとってはたまらない作品です。A面は比較的アップテンポに、B面はぶりぶりーっとスローに攻めてきます。とはいえ、"Hand Clappin'" や "Blow Your Horn" といった代表的ぶっとびアップテンポ程ではないのも確か。B面はかつて Saxophonograph レーベルから出た LP に収録された以外は、この盤 (及び同内容の 45回転シングル盤) のみで聴けます。
This 78rpm is one of his 78/45rpms released by Mercury. This tune was recorded in 1954, when the 78rpm era was nearly coming to an end. Side-A is a killer track with growling tenor sax in middle tempo, while Side-B features nasty slow-tempo saxophone sound. Of course, his other famous tracks like "Hand Clappin'" and "Blow Your Horn" (both played in up-tempo, featuring super-bad honking sounds by Red Prysock) surpass this 78rpm, though. By the way, Side-B "Hey There" can be heard only on this 78rpm (and an equivalent 45rpm release), except a LP compilation by Saxophonograph label (released probably in the 1980s).
Side-A: Fats Place
Side-B: Hey There

Frank Gailbreath (tp), Julius Sparrow (tb), Red Prysock (ts), Clarence Eugene Wright (bs),
Roland Johnson (vib), Jimmy Neeley (p), Herbert Gordy (b), Cornelius Thomas (ds).
Recorded in New York City on September 13, 1954.
---
Similar Posts / 関連記事:
Some similar posts can be found on this website (automatically generated).