長いこと日本盤 LP で聴いてきたのですが、先日ボロボロのオリジナル盤を格安で見付け,購入しました。 しかし、普通のボロ盤とはちょっと違う感慨があります。
I've enjoyed this album (of Japanese LP reissue) for a long time – then the other day I found the original LP issue (which was not in excellent condition at least visually), and I bought it. Although in fair condition, this copy might have a special story behind it . . .
(the rest of the English edition of this article will be available in the near future, I hope…)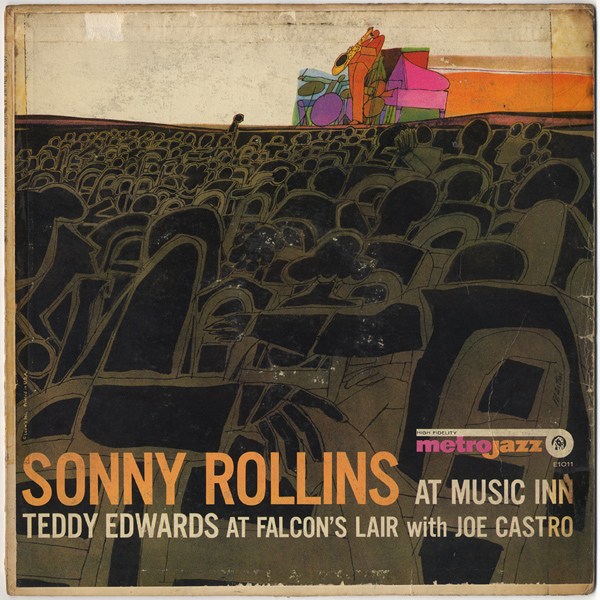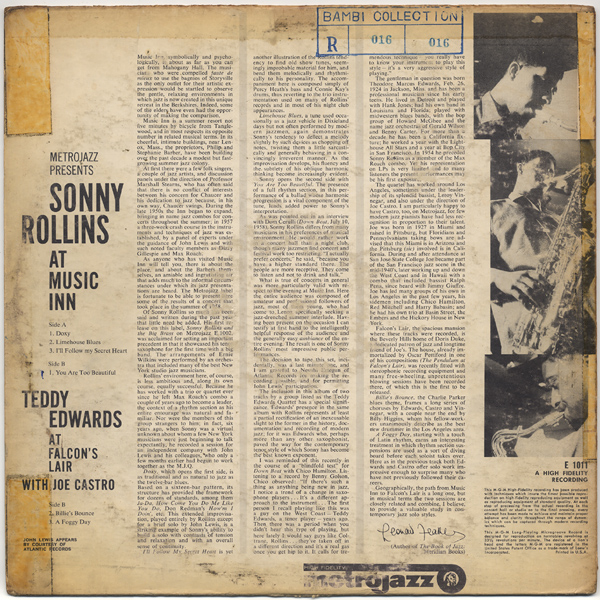 Sonny Rollins At Music Inn – Teddy Edwards At Falcon's Lair
(MetroJazz [US] E-1011)
それというのも、裏ジャケのスタンプ。「BAMBI COLLECTION – R – 016 – 016」とあります。これってやっぱり、大阪梅田 / 心斎橋 / 神戸三宮にあったという、あのジャズ喫茶「バンビ」から流れて来た盤、ということなんでしょうかね? 真偽の程は分かりませんが、もしそうだとしたら、この盤は、ジャズ喫茶「バンビ」に当時通っていた多くのお客さんを楽しませた盤そのもの、ということになります。しかも番号が 016 ということは、かなり初期にストックされた盤ということなのかも知れません。ジャケットの痛々しいテープ跡やスレが、頻繁にかけられ扱われていたことを物語っているのでしょうか。
私は大阪万博の年に生まれたので、当然ながら全盛期のジャズ喫茶文化を全く知りません。日本におけるジャズ喫茶の功罪は至るところで語られてきたと思いますので、ここでは特に触れませんが、こういう盤に出くわすと、いろいろ思いにふけってしまいます。レーベルB面に書き込まれた「ダブル W」って、どういう意味なんやろう? とかも含めて。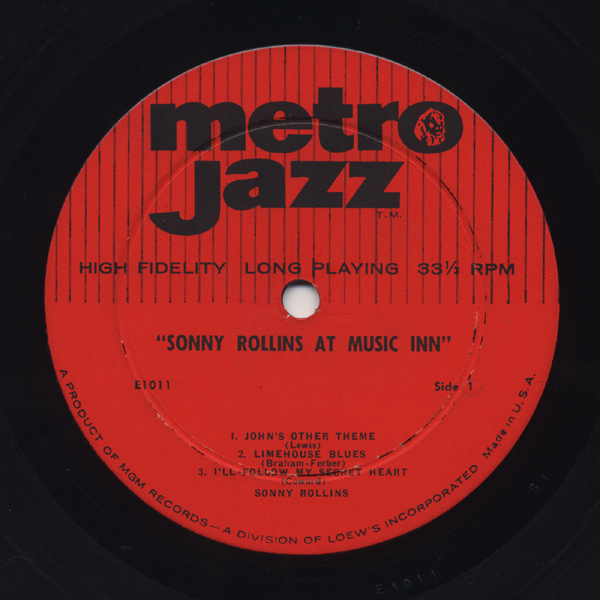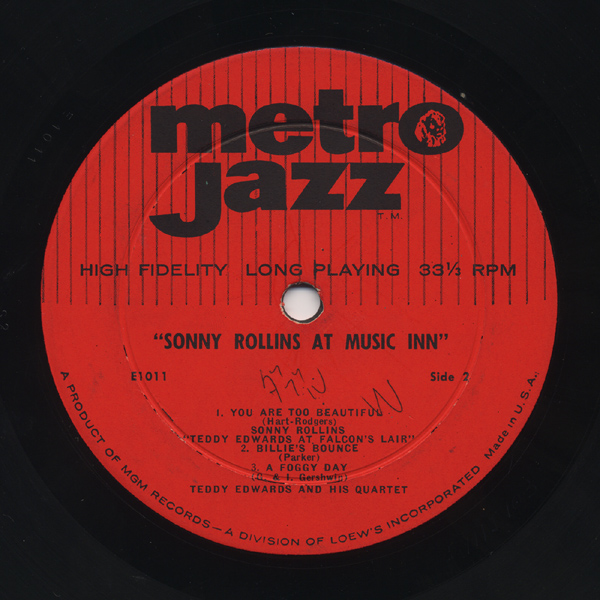 幸い、レーベルにヒゲはたくさんついていましたが、盤質自体はかなり良い方でした。バックが誰であろうと、唯我独尊。Sonny Rollins の 1950年代の録音はどれもこれも (言うまでもなく) 素晴らしいものばかりですが、この盤でも唯我独尊っぷりを発揮しまくっています。しかも2曲ではお得意のピアノレストリオ編成。前にも書きましたが、私が一番好きな Rollins の録音は "And The Contemporary Leaders"。そんなことを言う変態ファンですので、あんまり気にしないで下さい。ええ。
ライナーを担当している Leonard Feather が言い訳がましく書いていますが、残りの Teddy Edwards カルテットの演奏も素晴らしい。当然、録音した場所が全然違うので、おと的には随分変わっていますが、一緒のアルバムに収めたくなるプロデューサーの気持ちは分かります。
A-1: Doxy
A-2: Limehouse Blues
A-3: I'll Follow My Secret Heart

B-1: You Are Too Beautiful
B-2: Billie's Bounce
B-3: A Foggy Day

Side-A and B-1: Sonny Rollins Quartet/Trio:
Sonny Rollins (ts), John Lewis (p on A-1, B-1), Percy Heath (b), Connie Kay (ds).
Recorded at the Music Inn, Lenox, MA on August 3, 1958.

B-2, B-3: Teddy Edwards Quartet:
Teddy Edwards (ts), Joe Castro (p), Leroy Vinnegar (b), Billy Higgins (ds).
Recorded at "Falcon's Lair", Beverly Hills, CA, probably in 1958?