(2012年10月29日、2012年11月27日、2013年11月10日追記あり)
1975年6月11〜13日にトロントのバーボンストリートで行われた ジム・ホール (Jim Hall) トリオのライブ。ドン・トンプソン (Don Thompson) とテリー・クラーク (Terry Clarke) という当時のレギュラーグループによる密度の高い演奏。以前ここに載せた「Jazz Impressions of Japan」同様、最高の絡みが十二分に楽しめる著名盤です。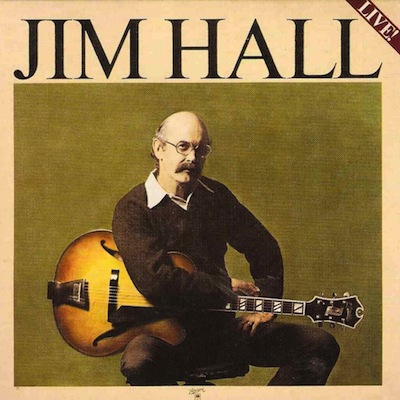 Jim Hall Live! (A&M / Horizon [US] SP-705)
その名盤中の名盤の未発表音源を3枚組にして蔵出しする企画が ArtistShare で行われていたのは知っていたのですが、予約注文をすっかり忘れていて、 先日滑り込みで発注しました。
で、先程見たら「SOLD OUT」と。。。 無事届いてくれるといいのですが。
ご存知の方もいらっしゃると思いますが、 ArtistShare というのは、音楽レーベル版の KickStarter のようなもので、2000年創立のレーベル(?と言っていいかは微妙ですが)です。
各レコーディングプロジェクト、各ライブプロジェクト、各リイシュープロジェクトに対して、出資者が金銭を支払う仕組みになっています。レコーディングセッションに立ち会う権利、プロデュースやスーパーヴァイズする権利(!)、出来上がった CD にクレジットを載せてもらえる権利などから、出来上がった CD メディアを買うだけの権利など、金額に応じて、現在進行形のさまざまなプロジェクトに関わることができる、というものです。
---
ジム・ホールさんは、2003年からこの ArtistShare に移籍しており、私は過去にビル・フリーゼル (Bill Frisell) とのデュオアルバム「Hemispheres」を購入したことがあります。その他にも数枚リリースにこぎつけたプロジェクトがあります。
今回は、あの大名盤「Jim Hall Live!」の蔵出しプロジェクトで、絶対に購入するぞと意気込んでいたのですが、仕事が忙しかったりで記憶の彼方に。。。
先週、「ついに出荷連絡があった!」と ブログに書かれている コレクターさんの記事を目にして思い出し、ヤバいもう間に合わないかも、と急いで ArtistShare の web をチェック したところ、残り十数枚と書いてあったので速攻でオーダーし、即日出荷連絡メールを受け取りほっとしたところです。
---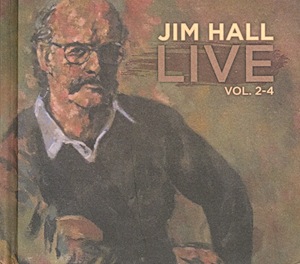 というわけで、まだ手元には届いていないのですが(ワクワク)、購入者にはボーナストラックの mp3 (320kbps) をダウンロードできる特典がついていますので、そちらを早速試聴しました。7曲あります。あの名曲「Careful」もばっちり収録されています。マスタリングも良好、演奏も予想通り最高です。何度聴いても飽きる事はない、この時期のジム・ホール・トリオの珠玉の名演。
Jim Hall Live Vol.2-4 Bonus Tracks:
1: Emily
2: Prelude To A Kiss
3: Spring Is Here
4: Fly Me To The Moon
5: Two's Blues
6: Moonlight In Vermont
7: Careful

---
既に入手された方が Discogs に詳細を載せてくれていますが、DVD もついてきていて、24bit/48kHz の ハイレゾ音源 も同梱されているように読めます。もし本当だったらかなり嬉しいところですが。もしかしたら出荷が数ヶ月遅れたのはこの辺りが関係あるんでしょうかね。
ともあれ、届くのが楽しみです。
---
---
2013年11月10日追記:
iTunes ミュージックストアで本アルバムがダウンロード販売されていることに気付きました(ボーナストラックなし)。気付くの遅い?
2012年11月27日追記:
好評につき900セット追加プレスされたようです。現時点では622セット残っています。
2012年10月29日追記:
本日無事届きました。もう最高です。演奏内容はもちろんのこと、 24/48 のハイレゾ音源で聴けることも感動的です。
しかし、些細な謎がいくつか。
どうして 24bit/96kHz ではなくて 24bit/48kHzにしたんでしょうね。今時でしたら、マスタリング前にディジタルトランスファーする際には、24/96 か 24/192 で取り込んでいそうなものですが。
1枚目に6月12日、2枚目に6月11日、3枚目に6月13日の演奏がそれぞれ収録されているのですが、どうして時系列に収録しなかったんでしょうかね。些細なことかもしれませんが、どうしてなのか気になって仕方がありません。
ダウンロードのみで提供されるボーナストラック7曲の録音年月日(どの曲が11日・12日・13日の演奏か)が今のところ公開されていないように思われます。それぞれの日の演奏曲順も含めた完全なプレイオーダーも、ディスコグラフィックな側面からはぜひ知りたいところです。
さらに、分厚いライナーノーツの中には、今回のプロジェクトの立役者でもある、ベーシストの Don Thompson 氏によるテクニカルノートが(見開き2ページのみですが)含まれているのですが、そこにさりげなく書かれていることも結構な衝撃でした。
… I had a DI on the bass just in case I needed it, which proved to be a mistake, because when Ed Michel mixed the original LP, he just took a pass on the bass mic and went with the DI – thus effectively ruining the LP for me. I don't like the DI sound and I think I only mixed it in on one track ("Careful") of the new stuff. The bass (mic) track was generally really strong.
オリジナルの LP でのベースの音は、ダイレクトボックス経由の音だったんですね。で、今回は一曲を除いてダイレクトボックスの音はミックスされずにピックアップマイクの方が使われたと。
ということは、オリジナルマスターは 4トラックだそうですから、ギター x 1、ドラム x 1、ベース(ピックアップマイク) x 1、ベース(ダイレクトボックス) x 1 ってことですかね?
---
Similar Posts / 関連記事:
Some similar posts can be found on this website (automatically generated).