Rhino Handmade, a renowned label recognized for its numerous invaluable limited-edition CDs, has been satisfying the desires of hardcore collectors since its inception in 1999. This project is a standout endeavor by Rhino Records. Over the years, there have been countless titles on my wish list that I've been unable to obtain. Here's a look at the latest release from the Rhino Handmade label, which I was fortunate enough to purchase recently.

Magic Hollow / The Beau Brummels
(
Rhino Handmade RHM2-7892
)
The group's career can be divided into two distinct periods: the Autumn Records era from 1964 to 1966, where their melancholic and melodious hit tunes "Laugh, Laugh" and "Just A Little" led many listeners to mistakenly believe they were a British group; and the Warner Brothers era from 1966 to 1968, in which the band switched labels due to Autumn Records' bankruptcy. Despite not gaining much popularity or critical acclaim, their Warner Bros years of collaboration with producer Lenny Waronker resulted in a fruitful musical output. This 4CD set offers a definitive anthology of the band's entire career, featuring many previously unreleased tracks, demo takes, and very rare mixes.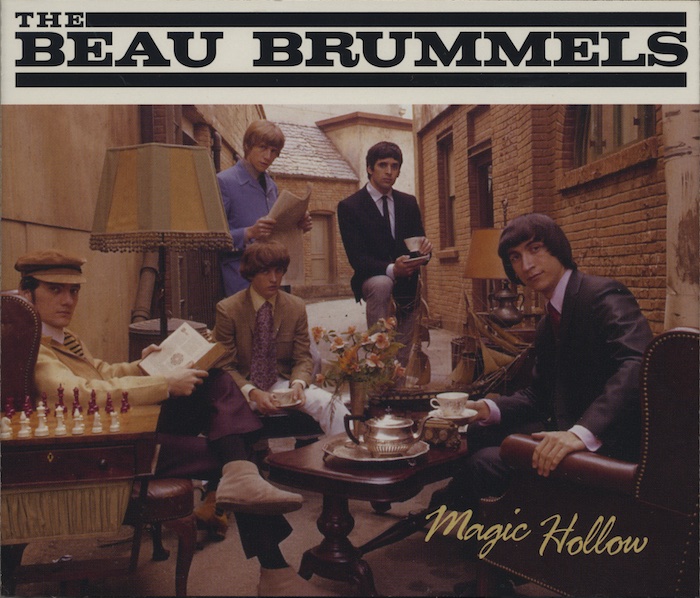 Key members Ron Elliott and Sal Valentino sought to create innovative sounds through their high artistic efforts, but their music was considerably underrated at the time. Nevertheless, this 4CD set allows us to fully appreciate The Beau Brummels' impressive and fertile music. Of the 113 tracks, 42 are previously unreleased, adding a unique touch to this Rhino Handmade edition. The set comes with a 48-page booklet that thoroughly details the band's history and musical evolution. Additionally, the booklet provides comprehensive discographic information, including personnel for each session, recording studio, and recorded date. It's important to note that this 4CD set is NOT an exhaustive collection of the band's entire recorded works but rather an anthology of their artistry, featuring many unreleased tracks.
My only disappointment with this otherwise excellent anthology was the sound quality of the tracks from the album "Triangle". While the 4CD set delivers impressive mono sound quality for their Autumn years' materials, and includes tracks from their last album "Bradley's Barn" in exceptional stereo sound, I couldn't help but feel some dissonance with the sound quality from the "Triangle" album tracks in this set.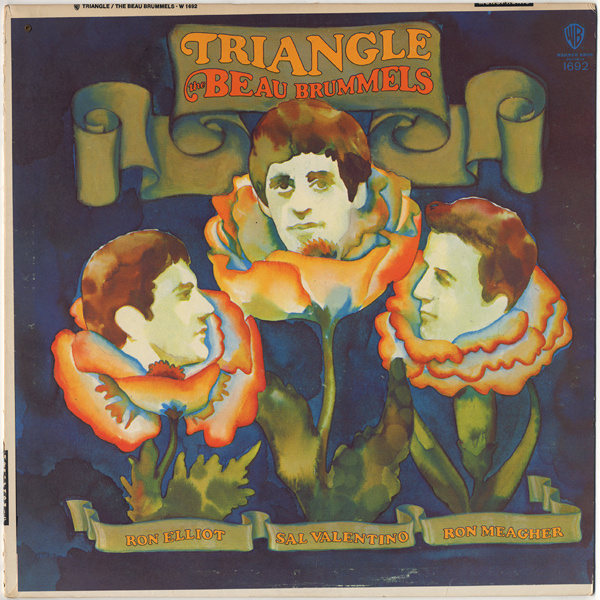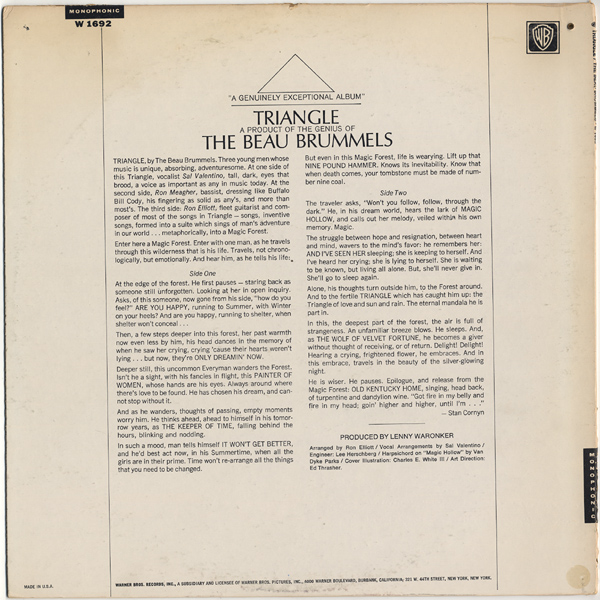 Triangle / The Beau Brummels
(Warner Bros. W1692)
I remember purchasing this original LP back in 1994, from the same shop where I bought the "Autumn '66" LP I mentioned earlier. At that time, younger listeners weren't as interested in genres such as Soft Rock, Folk Rock, and Burbank Sounds as they are today. I was drawn in by the captivating cover artwork, even though I didn't know much about the band. In no time, this LP quickly became one of my most cherished albums.
Actually this album is really conceptual — filled with a beautiful kaleidoscope of music. The band (consisting of only three members at the time – Sal Valentino, Ron Elliott and Ron Meagher) recorded such challenging music with the help of Lenny Waronker, Van Dyke Parks and Randy Newman, all of whom were key persons of the golden era of the "Burbank Sound". The music heard on this album heavily reflects the atmosphere of that time 1967 in the US West-Coast scene, and at the same time the music has ever-lasting quality through the years. It has full of emotional nuances and imcomparable originalities. Their last (and another masterpiece) album "Bradley's Barn" would even go toward the early era of Country-Rock sound with melancholic melodies, but this "Triangle" album is also invaluable and extraordinary.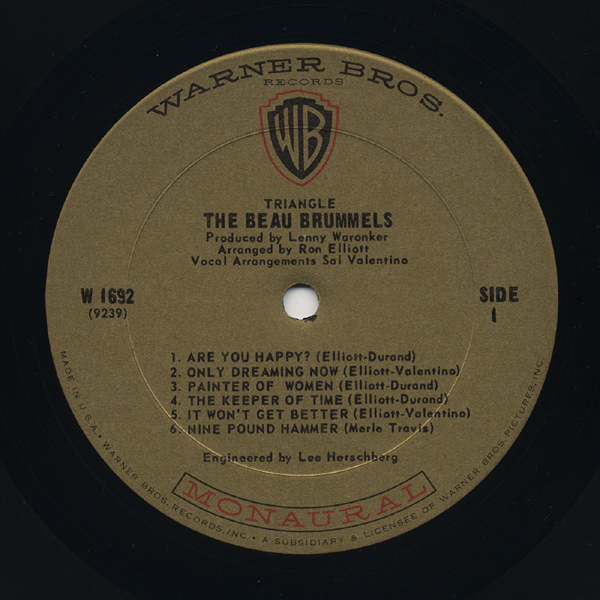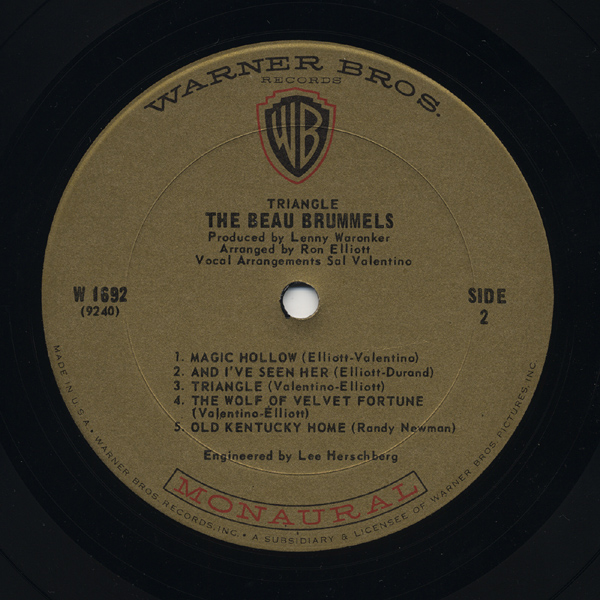 Each release from the Warner Bros. label offers consistently captivating sound quality. Notably, their early monaural recordings from the late 1950s deliver astounding sounds with a lavish and colorful flair. The "Triangle" album, recorded in 1967—a time when excessive equalization and compressor use were commonplace in popular recordings—preserves the distinctive sound of the Warner Bros. recording team. A beautiful and bold mid-range contributes to a warm, rich monaural sound characterized by a substantial "depth". Having become so accustomed to the excellent mono sound on the original LP, it was likely this that caused me to sense a discordance with the sound on the "Magic Hollow" 4CD set.
A-1 Are You Happy?
A-2 Only Dreaming Now
A-3 Painter Of Women
A-4 The Keeper Of Time
A-5 It Won't Get Better
A-6 Nine Pound Hammer
B-1 Magic Hollow
B-2 And I've Seen Her
B-3 Triangle
B-4 The Wolf Of Velvet Fortune
B-5 Old Kenturcky Home

The Beau Brummels: Sal Valentino (vo), Ron Elliott (g, vo), Ron Meagher (b, vo),
Dick Hyde (tb), David Duke, George Hyde & Gale Robinson (frh), Lou Klass & Shari Zippert (violin),
Donnie Lanier (g), Van Dyke Parks (harpsichord), Carol Kaye (b), Jim Gordon (ds),
unknown (additional instruments)
Recorded at United Recorders & Western Recorders, Hollywood, CA in 1967.
Produced by Lenny Waronker.
Arranged by Ron Elliott.
Vocal Arrangements by Sal Valentino.
Engineered by Lee Herschberg.