(English edition of this article will be available in the near future, I hope…)
ME-2 "Balançamba" から飛ばして ME-10 "Nara Leão" に行ってしまいましたが、本来の番号順 ME-3 に戻る前にもう1枚、 ME-9 の Antônio Carlos Jobim にいってみましょう。 以前と同様、 ELENCO Discography からもリンクを張ってあります。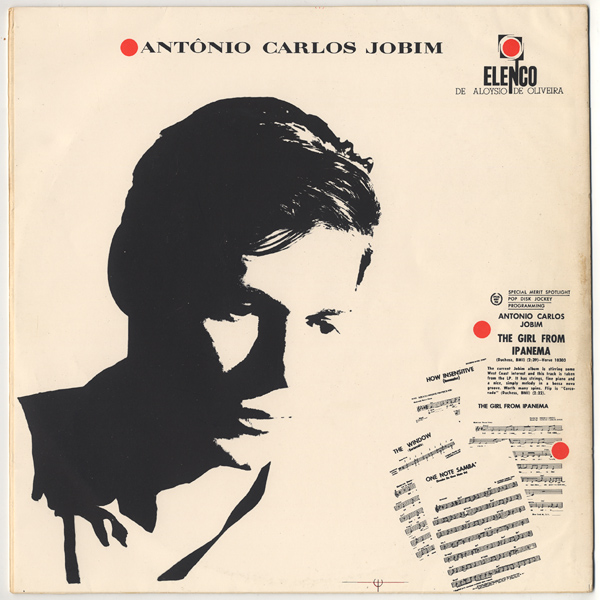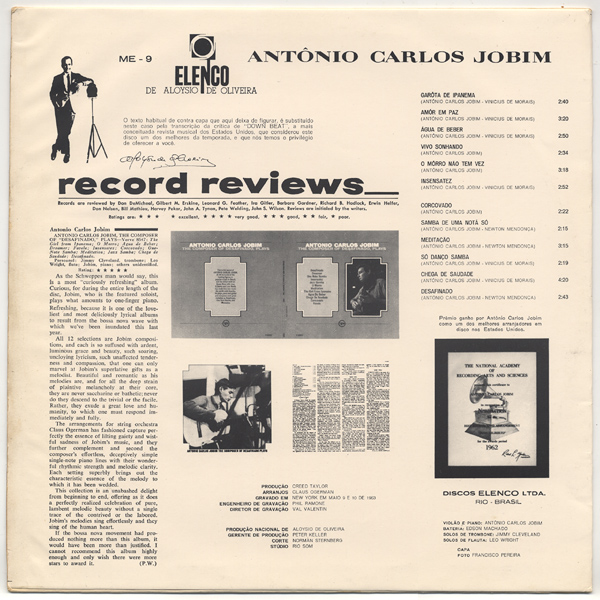 Antônio Carlos Jobim
(Elenco [BR] ME-9)
Amazon.co.jp で CD を買う
|
Buy this CD at Amazon.com
アントニオ・カルロス・ジョビン (Antônio Carlos Jobim) の当アルバム、実は、1963年に Verve からリリースされた、あの "The Composer of Desafinado, Plays" (Verve V/V6-8547) のブラジル盤なのです。
ELENCO では 1964年よりアメリカ録音のブラジル配給盤は MEV- という特別なプリフィクスを割り当てているのですが、1963年のこのアルバムでは、通常のブラジル録音と同じシリーズである ME- プリフィクスでリリースしています。 本盤の内容そのものは、もう方々で語り尽くされているでしょうから、特に触れませんが、 ここでは ELENCO レーベルの一連の作品中での本アルバムの位置づけについて語ってみましょう。
ELENCO レーベルの ME- シリーズの中では明らかに「浮いている」作品です。クラウス・オガーマン (Claus Ogerman) アレンジのもと、ニューヨークで (アメリカ人ジャズミュージシャンにも参加してもらって) 録音された本アルバム。文字通り、当時アメリカでブームとなった「いわゆるボッサ・ノーヴァ」の典型例が聴かれます。あまり目立たない様に抑制されたリズムセクション。全体的に演奏の起伏も抑制されたかの様なゆったりしたアレンジメント。「甘い」ストリングスの使われ方。ブラジル本国録音で多く聴かれる様な、エモーショナルで、パーカッシブで、より生々しくはじけるような音の中に抑制された美学が表現されているといった「あの感じ」は当然微塵もありません。もちろんこれは、ボッサ・ノーヴァだけに留まらず幅広い範疇で活躍した Jobim の特質でもあるのですが。
むしろ、本アルバムが ELENCO からリリースされた最大の理由というのは、ジャケット裏にみてとれるように思います。なんと、アメリカオリジナル盤 "The Composer of Desafinado, Plays" (Verve V/V6-8547) のジャケ表と裏、更にゲートフォールド内の全てのアートワークが、縮小されて引用されています。更には、当時 Down Beat 誌に載ったレビュー (五つ星) もそのまま引用されています。つまり、「我々の国が生んだ偉大なる最先端の音楽ボッサ・ノーヴァはとうとうあのアメリカをも熱狂させたのだ」というメッセージを、ブラジル国内に届ける為のリリースという見方も出来る、ということです。当時、ブラジル国内ではすでに、ボッサ・ノーヴァのブーム自体は下火になるきざしをみせていました (本格的に下火になるのは 1965年頃からでしょうか)。「ホンモノのボッサ・ノーヴァを作る」という理想に燃えていた ELENCO レーベルのオーナー Aloysio De Oliveira としては、アメリカに飛び火したブームを国内のリスナーに伝えることで、ボッサ・ノーヴァへの関心をキープしたかったという意図もあったのではないか、と邪推してしまいます。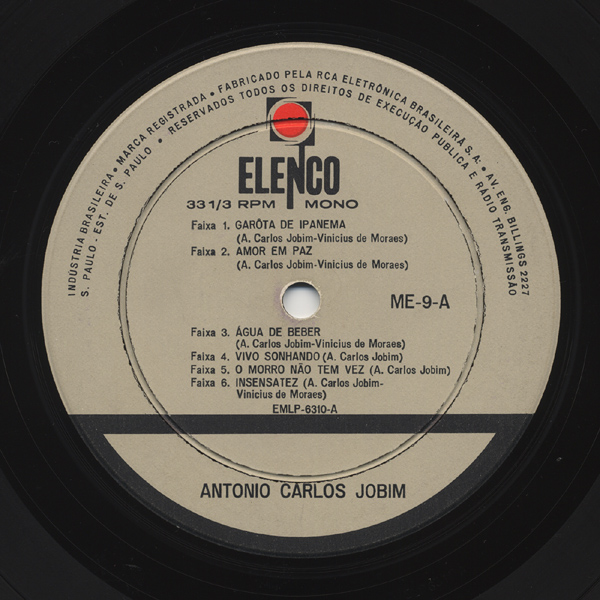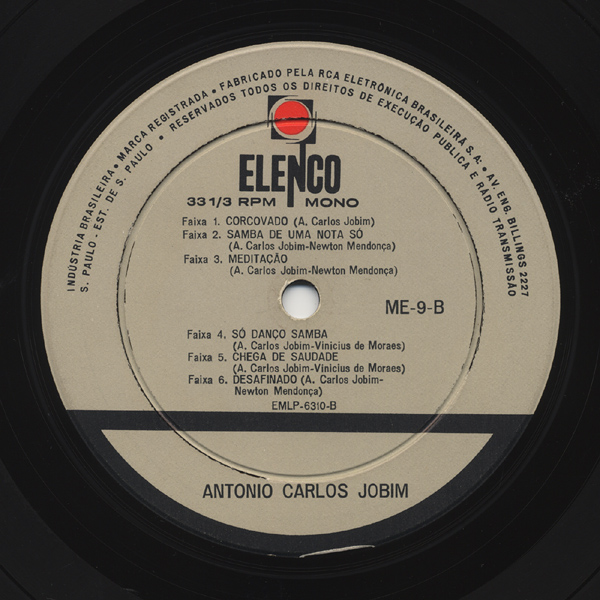 本盤の音質は、というと、それはもう Verve 音源ですから、鮮度という意味ではかなうはずもない、ということになります。しかし、さすが ELENCO。セカンドジェネレーションであっても、他の ELENCO のアルバムと統一感のある音質にきっちり調整しています。なお、私は以前 1960年代末期のセカンドプレス (ジャケットが E式の通常ジャケもの、レーベルは青色銀印刷) を持っていたのですが、そちらは聴くも無残な音質でした。それに比べると、本盤はアメリカオリジナルに準じる鮮度でしかも ELENCO らしい音を奏でるというもので、好感が持てます。
A-1: Gatôta de Ipanema
A-2: Amór em Paz
A-3: Água de Beber
A-4: Vivo Sonhando
A-5: O Môrro Não tem Vez
A-6: Insensatez

B-1: Corcovado
B-2: Samba de Uma Notá Só
B-3: Meditação
B-4: Só Danço Samba
B-5: Chega de Saudade
B-6: Desafinado

Jimmy Cleveland (tb), Leo Wright (as, fl),
Antonio (Antônio) Carlos Jobim (p, g), George Duvivier (b), Edson Machado (ds),
others unknown.
unidentified strings (section), Claus Ogerman (arr, cond),

Recorded in New York City on May 9 and 10, 1963.

Arranged by Claus Ogerman.
Produced by Creed Taylor.
Engineered by Phil Ramone.
---
Similar Posts / 関連記事:
Some similar posts can be found on this website (automatically generated).