Last night I picked up two LP albums by Max Roach and put 'em on my turntable to pray R.I.P.
昨晩はマックス・ローチへの追悼の意味で 2枚の LP を聴きました。
Both albums recorded in the 1970s, both released only in Japan, both not so popular as Roach's other masterpieces, and both not his best albums ever. But they have given me very interesting insights of the percussion artistry of how Max Roach can "sing" with the drums.
ともに 1970年代録音で、ともに日本のみのリリースだったものです。どちらの盤もマックス・ローチの幾多の名盤群に比べると有名な盤ではなく、最高傑作というわけでもありません。けれども私には、どちらのアルバムも初めて聴いた時から非常に興味深く感じられたものです。偉大なるパーカッショニスト、マックス・ローチのドラミングが文字通り「歌っている」、そのことがシンプルなフォーマットでここまで現れている盤は他にないようにすら思えます。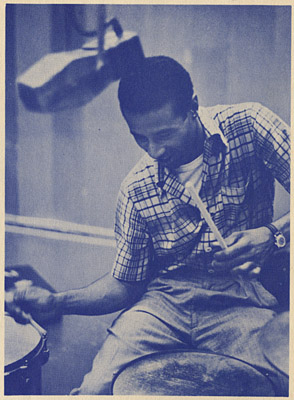 Max Roach in 1954
(taken from the back cover of EmArcy MG-36036 "Clifford Brown and Max Roach")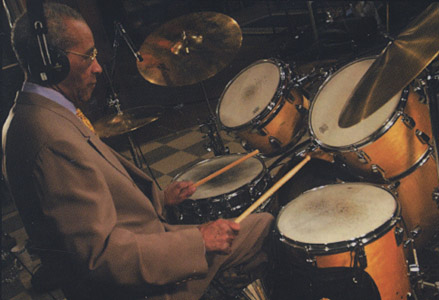 Max Roach in 2002
(taken from the back cover of Eighty-Eights VRJL-7005 "Friendship")
Read More / 続きを読む