アート・ペッパー (Art Pepper) 復帰後のアルバムの中で最も聴き応えのありスリリングな (と私が思っている) 録音、1977年7月28日〜30日のヴィレッジ・ヴァンガードでのライブ録音。1980年に日本キングから 3枚組 LP ボックスで先行発売され、すぐあとに米コンテンポラリーから 3枚の LP としてリリースされました。現在ではライブの全貌を 9枚組 CD ボックスで聴くことができます。
Art Pepper's awesome live recording at the Village Vanguard on July 28-30, 1977 – I believe this session is one of the finest recordings by Art Pepper after he came back in 1975 from his long absence. This superb live session was firstly released in 1980 from Japan King label as a 3LP box set. Soon after the Japanese LP box release, U.S. Contemporary label released three individual LPs (entitled "Thursday / Friday / Saturday Night at the Vanguard" respectively). Then we now have 9CD box edition, which contains all recorded materials of Art Pepper's better days.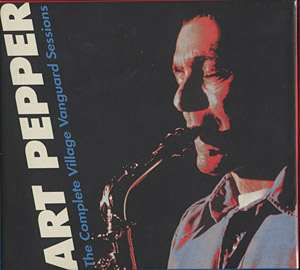 The Complete Village Vanguard Sessions / Art Pepper
この CD を Amazon.co.jp で買う
|
Buy this CD at Amazon.com
現在うちには、なぜかその 9枚組 CD ボックスが 2つもあります。 それにまつわるアホなお話です . . .
By the way, I now have two 9CD box sets somehow. Here is my stupid story behind that . . .
Read More / 続きを読む